Nice unmarked Stair Saw blade measures approx. 6" long tool is approx. 11" from end to end. item #stairsaw42 $75.00
Henry Disston & Sons cast steel Philad'a USA warranted stamped on spine This is a nice usable saw blade measures approx. 12" handle is good.
item #hdisston-52 $45.00 SOLD
Small Saw no makers mark found measures approx. 9 1/2" from tip to handle.
item #jewel46 $25.00
Small saw has Germany and the number 777 stamped on it.
item #jewelgerm47 $25.00
Small saw has E.C. Glass stamped on both sides item #jewelecglass48 $25.00
Robert Larson Japanese carpenter saw Hiromichi 240mm blade Ryobla noko saw B grade item #japsaw1200 $36.99
Robert Larson japanese carpenter saw S.K. brand mini size 150mm blade Dohzuki Noko saw item #japsaw2100 $27.99
Japanese Dozuki Saw used for the same purposes as a western dovetail saw. The Japanese saw has a stiff back for cutting dovetails, tenons and other fine joints. This saw makes an incredibly fine cut and will assist the woodworker in accurately producing hand made joints. Hardened teeth extend blade life. Like all Japanese style saws, this saw cuts on the pull stroke. Blades can be replaced. Blade length is 240mm Item #L7201550 $49.99
Japanese Ryoba Saw equivalent of the western hand saw, but with rip teeth on one side of the blade, and crosscut teeth on the other. There is no back on this saw. Hardened teeth extend blade life. Saw cuts on the pull stroke replaceable blade blade length is 240mm. Item #L7201500 $37.89
Flush cutting saw the combination of a completely flexible blade, backless design, and teeth with no set will allow you to cut flush to the surface. Especially useful for trimming dowels and pegs. Wooden handle with a 6" blade 12" overall length made in Japan. Item #L7203000 $14.79
New Two Cherries Dovetail saw. Made especially for cutting dovetail and other fine joints, this is also a wonderful general purpose saw to have around the shop. Quality German steel blade with stiffening brass back and wooden handle. 15 teeth per inch 10" blade with a 2" depth of cut. Item #L5206020 $15.49
New Two Cherries Reversible Dovetail saw all the qualities of the basic dovetail saw shown above but with an offset handle, and offset blade to allow for cutting dowels and pegs. Reversible handle allows this saw to reach in tight spots where other saws cannont do the job. Made in Germany 15 teeth per inch
Item #L5206080 $24.99
New Two Cherries Veneer Saw disigned especially for use on veneer. Cutting veneer with a regular knife leaves a beveled edge on the veneer, while this oval blade and offset handled saw will provide a 90 degree cut on your veneer. use this saw against a straight edge for a perfect joint every time. Wooden handle made in Germany. Item #L5202200 $12.99
Coping Saw quality German coping saw includes a standard coping saw blade with two pins. The blade can be adjusted to any angle to provide the best approach to your work. A well made tool with many used. Wooden handle
Item #L5402000 $11.99
Replacement Coping saw blades for saw shown above come in a pack of twelve and are 6 3/4" long made in Germany. Item #L5407500 $8.39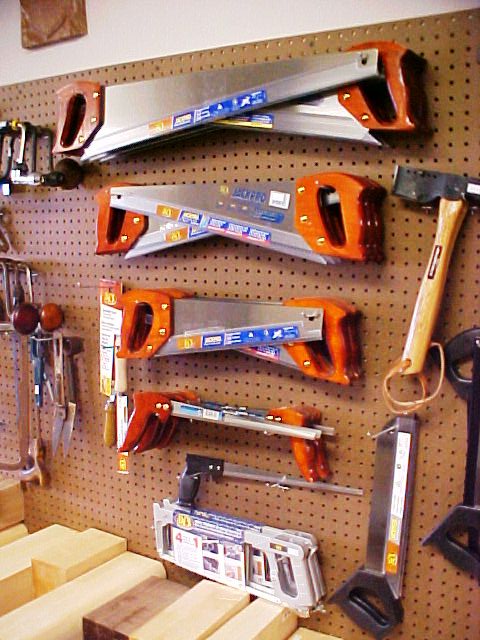 Jackpro Saws from the company that brings you Marathon Saw Blades
Handsaw 26" 10 points per inch $11.49
Handsaw 20" 8 points per inch $9.99
Handsaw 15" 8 points per inch $7.49
Compass saw wood handle 12" 8 points per inch $5.99
Compass saw plastic handle 12" 8 points per inch $5.99
Coping saw 6" $8.99
Back saw 12" 13 points per inch plastic handle $9.99
Jackplus veneer saw 13" 13 points per inch $10.99
Dovetail saw 10" 14 points per inch $9.99
Drywall saw 6" $5.99
Hacksaw four saws in one heavy duty hacksaw, jab saw, 45 degree flush cut saw and compass saw made in USA heavy duty metal frame $19.99
Irwin High Speed Steel Hole Saws
sizes available
1/8"-$5.99
15/16"-$5.99
1 3/8"-$6.99
1 5/8"-$6.99
1 7/8"-$7.99
2 1/4"-$8.99
2 3/8"-$9.99
2 7/8"-$10.99
3 1/2"-11.99
4"-$12.99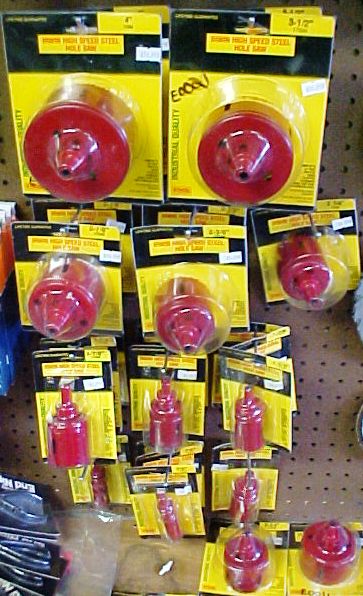 Irwin HCS Jig Saw Blades
Fits Black & Decker, Bosch, Craftsman, Makita, Milwaukee, Ryobi and Skil
$1.99 each Sizes available:
4 1/2" progressive teeth for wood, composite materials
4" 10TPI for plastic and laminates
4" 8TPI for wood
4" 6TPI for wood and plastic
4" prosgressive teeth pipe profile
3" 14TPI for metal
3" 14TPI Bi-metal
3" 24TPI Bi-metal
3" 19TPI for wood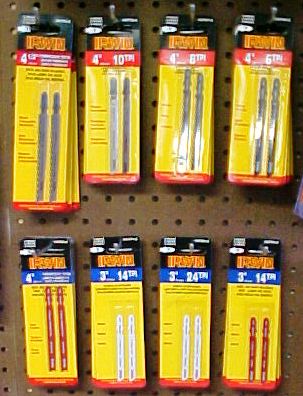 �
�
�



Irwin Premium Carbide tipped 12" saw blade
anit-vibration laser slots for exacting cuts, hardened and tempered blade body for life and accuracy, C4 Tungsten carbide tips for longer cutting life, Diamond sharpened tips for smooth and accurate cuts, precision balanced and tensioned plate for superior performance and laser cut expansion slots for reducing heat and vibration. $39.99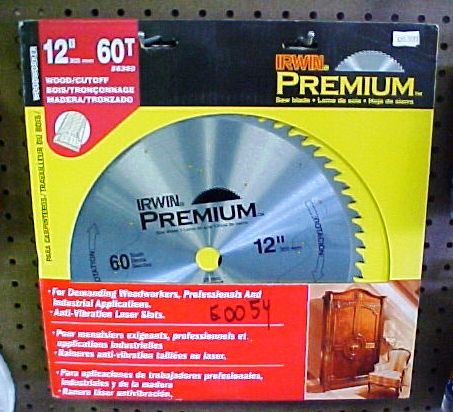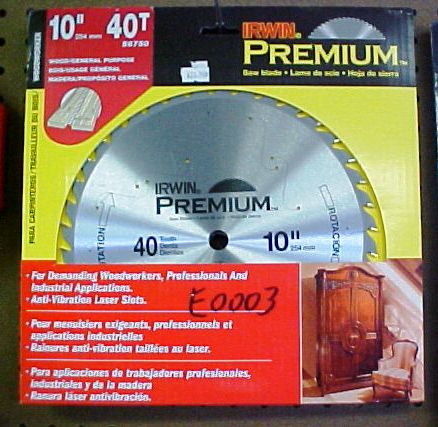 Irwin Premium 10" 24 tooth saw blade
anit-vibration laser slots for exacting cuts, hardened and tempered blade body for life and accuracy, C4 Tungsten carbide tips for longer cutting life, Diamond sharpened tips for smooth and accurate cuts, precision balanced and tensioned plate for superior performance and laser cut expansion slots for reducing heat and vibration. $26.99
Irwin Premium 10" saw blade 40 tooth
anit-vibration laser slots for exacting cuts, hardened and tempered blade body for life and accuracy, C4 Tungsten carbide tips for longer cutting life, Diamond sharpened tips for smooth and accurate cuts, precision balanced and tensioned plate for superior performance and laser cut expansion slots for reducing heat and vibration. $28.99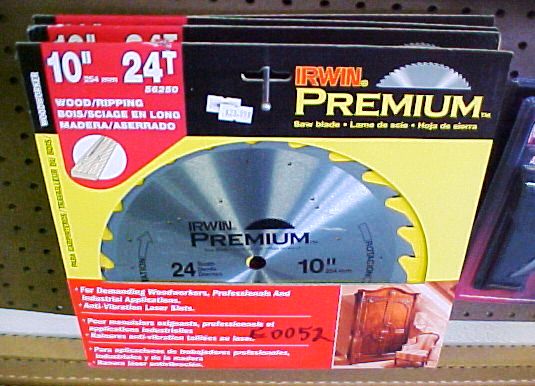 �
�
�