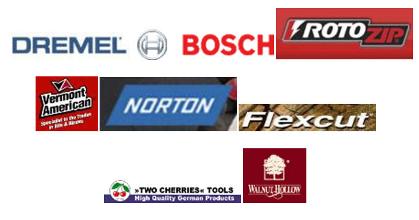 We have several links to assorted antique tool catalogs which you can download for free, all are in adobe pdf form so you will need the latest version of the adobe reader which you can download free at www.adobe.com
This website does cost money to run At BizLand, the term "bandwidth" refers to the total amount of information that has been served to visitors from your site during a given month. BizLand allows a certain amount of bandwidth usage each month, based on my hosting membership. Every file on my Web site has a size (e.g., 24K); and every time a file is downloaded by a visitor, my bandwidth usage goes up by that amount. , the information here is free for all but if you could make a small donation it would help us out a lot to maintain the costs and to keep the old catalogs coming!

In the beginning
Picture America in the late 1880s. The states were only 38 in number. Their total population was 58 million and about 65 percent of these people lived in rural areas. Only a dozen or so cities had 200,000 or more residents. And the yearly national income was about $10 billion. This was the scene when, one day in 1886, a Chicago jewelry company shipped some gold-filled watches to an unsuspecting jeweler in a Minnesota hamlet. Thus started a chain of events that led to the founding of Sears.
Richard W. Sears

Craftsman Railway Station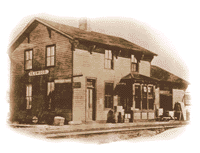 Richard Sears was an agent of the Minneapolis and St. Louis railway station in North Redwood, Minnesota. Sears job as station agent left him plenty of spare time, so he sold lumber and coal to local residents on the side to make extra money. Later, when he received a shipment of watches - unwanted by a neighboring Redwood Falls jeweler - he was ready. Sears purchased them himself, sold the watches at a nice profit to other station agents up and down the line, and then ordered more for resale. In 1886 Sears began the R.W. Sears Watch Company in Minneapolis.


Sears settles in Chicago
The following year, Sears moved his business to Chicago and inserted a classified ad in the Chicago Daily News.

WANTED: Watchmaker with reference who can furnish tools. State age, experience and salary required. ADDRESS T39, Daily News. An Indiana lad, Alvah C. Roebuck answered the ad. He told Sears he knew watches and brought a sample of his work to prove it. Sears hired him. Here began the association of two young men, both still in their twenties, that was to make their names famous. For it was in 1893 that the corporate name of the firm became Sears, Roebuck and Co.
By the time Sears was started, farmers in rural America were selling their crops for cash and buying what they needed from rural general stores. But when they laid their money on the line for goods, farmers saw red. In 1891 the wholesale price of a barrel of flour was reported to be $3.47. Price at retail was at least $7, a 100 percent increase. Farmers formed protest movements, such as the Grange, to do battle against high prices and the "middleman."

Sears, Roebuck and Co. and other mail-order companies were the answer to farmers' prayers. Thanks to volume buying, to the railroads and post office, and later to rural free delivery and parcel post, they offered a happy alternative to the high-priced rural stores. Years later the company adopted the motto "Shop at Sears and Save." Because farmers could do so in the 1890s, Sears prospered.


Alvah C. Roebuck

Mail-order business takes off
Richard Sears was the guiding genius of the new mail-order firm. He knew farmers, understood their needs and desires. Better yet, he could write advertising copy that made farmers send in their money and orders. While the earliest catalogs featured only watches and jewelry, the new firm by 1895 was producing a 532-page catalog with many other items. This book offered shoes, women's garments and millinery, wagons, fishing tackle, stoves, furniture, china, musical instruments, saddles, firearms, buggies, bicycles, baby carriages and glassware, in addition to watches and jewelry. Under Sears leadership, sales in 1893 topped $400,000. Two years later they exceeded $750,000.

Selling, advertising, merchandising - these were Richard Sears' talents, not organizing the company so it could handle orders on an economical and efficient basis. That was left to Chicago clothing manufacturer Julius Rosenwald, who bought into the company in 1895.

The company's reorganization resulted in Rosenwald becoming vice president. Sears retained the presidency. Suffering from ill health, Roebuck resigned, although the company still retained his name. In 1901 Rosenwald became treasurer as well as vice president. Five years later, needing additional capital, Sears and Rosenwald for the first time sold common and preferred stock on the open market. The company has been publicly owned ever since.

Mail order house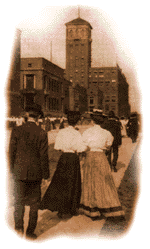 Sears business expanded fast. So fast, in fact that the company soon outgrew its rented five-story building. In 1896 Sears moved to a new six-story-and-basement building. By the turn of the century, additional buildings were built or leased in various areas of Chicago. Meanwhile, construction was started on a 40-acre, $5 million mail-order plant and office building on Chicago's West Side. When opened in 1906, the mail-order plant, with more than 3 million square feet of floor space, was the largest business building in the world.
In 1906, Sears opened an office in Dallas, Texas, which six years later blossomed into a mail-order plant. This plant offered the Southwest such advantages as lower freight rates, faster delivery and reduced damage to merchandise. Sears wrote:

"If with this trial we can get any success, the next place will get the kind of preparation that will insure success, and encourage us to cover the United States rapidly with 10 or more branches..."


Building mail-order plants was one thing. Making them operate efficiently was something else. Around the turn of the century a customer complained:


For heaven's sake, quit sending me sewing machines. Every time I go to the station I find another one there. You have shipped me five already. Sears mail-order executives knew of these problems and were as unhappy as the customers about them. After much experimenting, they introduced a time schedule. Under it, each order, as it arrived, was given a time to be shipped. Then no matter what happened, the order had to be in the appropriate bin in the merchandise-assembly room at the assigned time. It traveled to the room by an intricate system of belts and chutes.

The time-scheduling system brought order to mail order, enabling the Chicago plant, according to one expert, to handle 10 times the business it handled before the system was introduced. Before long, the system became a sort of "seventh wonder" of the business world. Henry Ford is reported to have visited the Chicago plant to study the assembly-line technique used in the system.

While some executives were perfecting the scheduling system, others were involved with other projects. Fanciful catalog writing started by Sears became far less fanciful. What's more, buyers began looking beyond price tags to the quality of the good they were buying. The change in the catalog from the flamboyant to the factual appears to have started by the turn of the century, although Richard Sears' influence continued for some time after. One Sears authority says the change to factual catalog writing came out of day-to-day decisions. Hundreds of decisions about copy on specific products added up to a factually written catalog.

Not only did copy improve, but some products such as patent medicines were dropped. The 1912 catalog devoted one less page to patent medicines than the 1911 catalog. The 1913 catalog came out solidly against home remedies under the banner line "Why We Have Discontinued Patent Medicines." The improvement in the quality of Sears goods goes hand in hand with the story of Sears laboratory. As early as 1905 the company began insisting not only on accurate catalog descriptions but also on quality merchandise.

Sears Laboratory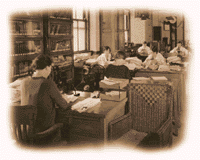 The first laboratory opened in 1911 and, in time, became known as the "watchdog of the catalog" suggesting minimum standards for some products spot-testing mail-order plant merchandise conducting scientific comparisons between Sears and competitors' products.
The Sears catalog has had a varied and interesting career. In the old days it sold "heavyweight, nice soft-finish, black" wool cheviot coats for $4.98; men's suits for $9.95. It sold a "Stradivarius model violin" for $6.10 and an $8 brass banquet lamp for $2.30. The catalog, on occasion, was given away free; on other occasions it cost as much as 50 cents.
Famous in catalog history is the plan Richard Sears used to put his wish books into the hands of thousands of potential new customers. In 1905 Sears wrote to the company's best customers in Iowa, asking each to distribute 24 catalogs among friends and neighbors. These customers sent Sears the names of people who received the catalogs. When these people, in turn, sent in orders, the original customers received premiums for their work: a stove, a bicycle or a sewing machine. With success in Iowa, the system was applied in other states.

Opening retail stores
In 1906 Sears wrote:

"We do comparatively very little business in cities, and we assume the cities are not at all our field - maybe they are not - but I think it is our duty to prove they are not "
Nineteen years later, the time came for Sears, Roebuck and Co. to prove that cities were its field. The man who proved it was Robert E. Wood, then a Sears vice president later to become president and board chairman. At Sears, he garnered fame as the father of Sears retail expansion.
There were several reasons why Wood crusaded for Sears to open retail stores. For one thing, chain stores were beginning to blanket the country and cut into Sears mail-order business. In 1914 there were about 24,000 chain stores. Fifteen years later there were more than 150,000.
The whole face of the country was changing. With cars and modern roads, Sears rural customers were no longer limited to shopping by catalog. Just as important, American cities were growing up, and Sears rural customers were abandoning the farm for the factory. In 1900 rural population still outnumbered the urban population. By 1920 the situation was reversed.
City dwellers, Wood reasoned, weren't good catalog customers. They shopped in city stores. Unless Sears opened stores of its own, it would end up serving only a small fraction of the total American buying public. As soon as he was on the job, Wood moved.



Early in 1925, he experimented with one store located in the Chicago mail-order plant. It was an immediate success. Before the year was out he opened seven more retail stores, four of them in mail-order plants. By the end of 1927 he had 27 stores in operation.

The retail operation grew to 192 stores in 1928, to 319 stores in 1929 and to 400 stores in 1933. During one 12-month period in the late 20's, stores opened on the average of one every other business day. When two huge stores opened in one city on the same day, more than 120,000 people visited them during the first 12 hours they were open. As one authority put it, "Leases can't be signed fast enough, stores can't be readied fast enough, personnel can't be hired fast enough."

The principle of Sears buying began to change in the late 1920s. Some mail-order merchandise already was being sold under Sears own trade names. And with the opening of more and more retail stores, volume in these and other lines grew rapidly. With this growth, Sears buyers were able to develop exclusively different items to be sold under Sears brand names. This was the beginning of such names as Craftsman, Kenmore and DieHard.

In 1931 Sears retail sales topped mail-order sales for the first time. Stores accounted for 53.4 percent of total sales of more than $180 million. Despite the Depression, Sears continued to open stores during the 1930s. When war broke out in 1941, more than 600 stores were operating. World War II called a halt to Sears retail expansion and even forced several stores to close. After the war, however, Wood resumed his expansion program.

Just as Wood recognized the need to open retail stores in outlying areas, so too did he recognize the average family's need for an automobile and for low-cost insurance. Allstate Insurance Co. was launched as a wholly owned Sears subsidiary in 1931, and Wood became the first employee-policyholder. Its name was taken from Sears line of automobile tires.
At first, Allstate operated only by mail. However, by 1933 management discovered that most sales were being made in smaller towns where the catalog business was big, while the large metropolitan markets were not responding. As a result, Allstate pioneered a bold idea - the installation of sales locations in Sears stores.
Sears Expansion
Gradually, a comprehensive code of retail operating techniques was worked out, enabling store managers to concentrate on two essentials - selling and proper ordering. The new techniques were as vital to retail as the time-schedule system was to mail order.

Another milestone was passed in 1932 when Sears established the store planning and display department. Before merchandise had been fitted into buildings, now buildings were built around merchandise. The first store to be built from the inside out was the Glendale, California store opened in 1935. The new store planning and display department concerned itself with all elements of the store - tables, fixtures, space requirements for the different merchandise lines, customer flow and width of aisles. The store shell was built around the selling floor plan.

When Sears opened its Pico Boulevard store in Los Angeles four years later, a rival merchandising executive paid tribute: "In my long experience in the retail field," he said, "I have yet to witness a retail unit which equals Sears Pico Store in practical efficiency, merchandise engineering, operation, layout and presentation of merchandise."

Another important approach to urban customers was made through catalog sales desks, which were installed in the retail stores. In another move, Sears opened catalog sales offices in towns too small to support retail stores. Two decades later, the company launched an additional catalog operation - the independent catalog merchant program - in which a person operates his or her own store to sell Sears merchandise.

In 1942, the company opened its first store in Havana, Cuba, its first permanent retail outlet in a foreign land. But due to shortages created by World War II, refrigerators, stoves, washing machines, fans - all the hardlines so familiar in Sears stores - soon disappeared from the new Havana store. In 1947, with war shortages disappearing, Sears opened a store in Mexico City. In subsequent years, Sears opened stores or sales offices in Central and South America and Europe. In the early 1980s, Sears divested itself of many of its foreign retail operations.

Sears expansion south of the border was matched in 1953 by its expansion north of the border. Sears joined a pioneer Canadian merchandising company, Simpsons, Limited to form Simpsons-Sears Limited. The Canadian subsidiary now is known as Sears Canada Inc.
In 1969, Sears announced plans to build a new headquarters building in downtown Chicago. The 110-story Sears Tower became the world's tallest building at 1,454 feet when it was opened in 1973. The staggering amount of materials needed to construct the building included 76,000 tons of steel, 2 million cubic feet of concrete, 16,000 tinted windows, 1,500 miles of electrical wiring and 80 miles of elevator cable.

Sears Today
In 1980, Sears, Roebuck and Co. announced the formation of a corporate office and plans for major restructuring. This resulted in renaming the retail business the Sears Merchandise Group and the insurance business Allstate Insurance Group in early 1981. When Sears acquired the Dean Witter Reynolds Organization, Inc. and Coldwell Banker & Company later that year, it formed the Dean Witter Financial Services Group and the Coldwell Banker Real Estate Group. The following year, Sears formed a world trading company. It became Sears World Trade, whose activities were reduced and transferred to the Sears Merchandise Group in 1986.
The financial services strategy worked. The corporation --plus the Discover Card introduced in 1985--grew into the 1990s, with revenues reaching $59 billion in 1992. That year Sears announced it would again reshape the company to give it greater strength and marketing focus and to give its shareholders a better return on investment.
As part of this restructuring, the Sears Merchandise Group, reorganized around its apparel, home and automotive businesses, closed many of its under-performing retail locations including some mall-based stores. Its unprofitable general catalog operations also were closed in 1993, leaving a smaller -- but successful -- direct-response business.
In early 1993, Sears also completed an initial public offering (IPO) of 20 percent of its Dean Witter organization, then called Dean Witter. In the second largest stock dividend distribution in U.S. history, Sears spunoff its remaining shares of Dean Witter to Sears shareholders. Later in the year, Sears established another financial milestone through the IPO of 20 percent of Allstate's stock. At the time, it was the largest IPO in U.S. history. The remaining Allstate shares were distributed to shareholder in 1995. As the result of these actions, shareholders of Sears then owned shares in three separate and non-affiliated companies: Sears, Roebuck and Co., Allstate and Dean Witter Discover & Co. (now Morgan Stanley Dean Witter & Co.).
In addition, Sears sold the Coldwell Banker Residential Services, the Sears Mortgage Banking Group and the Homart Development Company. Total proceeds from these transactions, about $4 billion, were used to reduce overall corporate debt. With its diversified companies divested, Sears, Roebuck and Co. had returned to its retailing roots.
In 1997, Sears sold its majority interest in Sears, Roebuck de Mexico.
A major expansion of Sears.com in 1999 heralded a new era of enhancing the customer experience through Web-based technology. With Sears.com, the company began serving as a single national "clicks and bricks" resource for researching, buying, delivering, installing, maintaining and repairing the top brands of home-related products - major appliances, home electronics, heating and cooling systems, lawn and garden equipment, jewelry and watches, recreation/games, power tools, repair parts and select apparel items.

Sears Today
At the close of its 2000 fiscal year, Sears operated 863 mall-based retail stores, most with co-located Sears Auto Centers, and an additional 1,200 retail locations including hardware, outlet, tire and battery stores as well as independently owned stores, primarily in smaller and rural markets.
The company's services operations include product installation and repair services; service contracts; selected installed home improvements; and direct response. Direct response includes direct response marketing, clubs and services memberships; and merchandise through specialty catalogs.
Sears, Roebuck and Co. also is the majority owner of Sears Canada Inc., one of Canada's largest retailers. Sears Canada operates 125 full-line stores, 176 specialty stores, and 1,550 independently owned catalog agents and dealer stores.